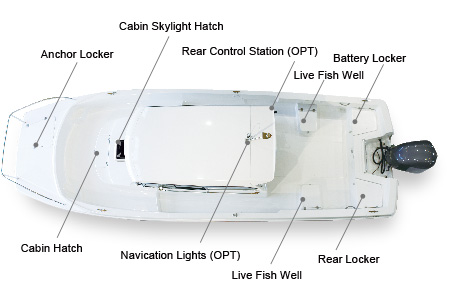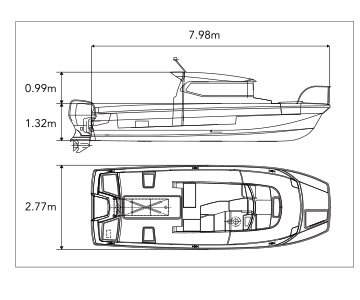 The height from the draft depends on the load weight. Specifications are subject to change without notice.
---
Standard Equipments
Bow Deck
Bow Pulpit
Bow Cleat/2 pieces
Anchor Locker
Cabin Hatch
Exterior
Storm Rail/LR
Cleat/LR
Stainless Hand Grip/2 pieces
Rear Deck
Live Fish Well/2 parts
Battery Locker
Rear Locker
Stern Rail
Stern Cleat/2 pieces
Cabin
Space for Overhead Console
Hydraulic Steering
Driver Seat
Navigator's Seat
Cabin Door(FRP)
Slide Window
Toilet Room
Cup Holder/2 pieces
Floor Center Locker
Navigator's Seat Locker
Starboard Underfloor Locker
Electrical Equipment
Battery
Main Switch
Fuel Meter
Room Light/2 pieces
Wiper
Window Washer
Options
*Navication Lights
*Navigator's Rotating Sheat
*Cabin Cushion
*Table
*Electric Toilet
*Wood Steering Wheel
*Leather-tone Interior (Ceiling & Wall)
Teakish Floor
Cabin Skylight Hatch
Deck Wash System By Sea Water
Original Air Conditioner
Shore Power System
Electronic Remote Control
Rear Control Station (Mechanical/Electronic)
*X Type: Equips as Standard.