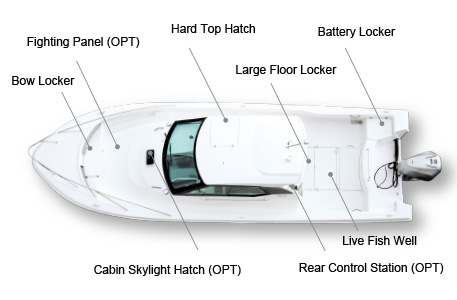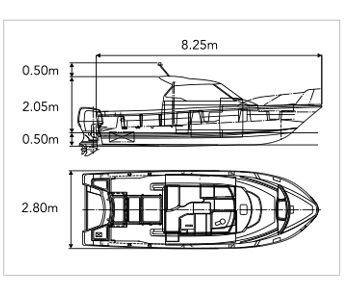 The height from the draft depends on the load weight. Specifications are subject to change without notice.
---
Standard Equipments
Bow Deck
Bow Pulpit
Bow Cleat/2 pieces
Bow Locker
Storm Rail/LR
Cleat/LR
Cabin
Hard Top Hatch
LED Room Light/2 pieces
LED Indirect Illumination/LR
Front/Side Green Glasses
Hydraulic Steering
Driver Seat
Slide Window
Small Door
Toilet Room
Wiper and Window Washer
Long Length Locker
Shoes Locker
Hard Top Grip
Bow Berth Locker
Under Berth
Accessory Case at Driver' Feet
Accessory Case Under Driver Seat
Accessory Case Under Navigator's Seat
Deck Floor Locker
Rear Deck
Live Fish Well
Fuel Tank(320L)
Battery Locker
Rear Deck Locker
Stern Cleat/2 pieces
Stern Rail
Battery
Options
*Electric Toilet
*Convertible Seat
*Cabin Cushion
*Under Berth Cushion
*Table
*Wood Steering Wheel
*Navication Lights
Cabin Skylight Hatch
Utility Cushion
Carpet
Fresh Water Shower
Deck Wash System By Sea Water
Extension Rail
Fighting Panel
Teakish floor
Original Air Conditioner
Shore Power System
Wind Intake Kit/1 piece
Electronic Remote Control
Rear Control Station (Mechanical/Electronic)
*X Type: Equips as Standard.